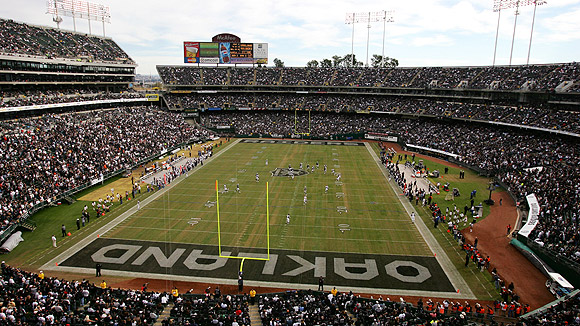 In a recent interview owner Mark Davis stated at this time there are no plans to share the new 49er's stadium that is already under construction and a mere "stones throw" from Oakland in Santa Clara. There are also many issues regarding any possible move to LA and into one of the two new stadiums that are currently under proposal. The Raiders current stadium is 46 years old and beyond renovation that would make it fitting football stadium. So what are the Raiders going to do?
I recently read an update on all of this written by Darren Arrata of Carlmont High School in the Forum below an article on the Raiders in NFL.com. He seems to know more about this than any professional writer out there, so here is his take.
"Do your homework people! Raiders are not moving back to L.A.
First, the 2 Oakland proposals: Rick Tripp Development has a proposal on the table for a new Raiders stadium in Oakland, that is 100% privately financed (through a Saudi-owned investment bank, three private equity funds, a pension fund, in-stadium taxation, etc.) With that being said, his company also just received a 9 figure conditional commitment for naming rights should his project be the chosen one. There is a confidentiality agreement in place until a couple of milestones are reached, but I can tell you that the company is outside of the Bay Area (but in the U.S.), as to not interfere with the Raiders other sponsorship opportunities and ventures, and that it will be the first venture into the sporting world for this company.
The other Oakland plan is being run
by the City of Oakland, County of Alameda, and the JPA (Joint Powers Authority). They have appointed JRDV Urban International (which also includes Dallas-based HKS Sports and Entertainment) and Forest City Real Estate Services LLC for the development, planning, and architecture work. This proposed stadium plan, actually features a retractable room, as they would like it to also be used for large conventions and concerts as well. The city and county cannot justify the cost of a new football stadium for only 10-12 home games a season, plus a Super Bowl. This plan would require a $150-$200 million dollar loan from the NFL (and for all you naysayers who claim that the NFL will not loan the "other" Bay Area team funding, look no further than this article: Oakland Raiders Stadium: NFL Commissioner Sent Eric Grubman To Oakland - Oakland City Buzz | Examiner.com), in-stadium taxation, federal and transportation funding (the Coliseum site is eligible for this because of the close proximity of BART, Amtrak, the 880 and 580 freeways, and the Oakland Airport), and a form of Japanese private investor ship, etc. There may come a point where Rick Tripp's Development team could become interactive with this plan also. There has been some recent talk of this being a possibility. Remember, voter approval is not needed for a Raiders stadium in Oakland, as the City owns all of the land in and around the site-with the exception of a Denny's and truck yard. Tax dollars will not be available for this project, as Alameda County taxpayers are still on the hook for the renovations (addition of 10,000 seats-Mt. Davis, the Eastside and Westside clubs, and luxury box suites) done to the Coliseum when the Raiders returned to Oakland in 1995.
Now on to the L.A. stadium proposals. For 1., the NFL has made it perfectly clear that THEY will play a heavy role on deciding which stadium proposal will move forward, and which existing NFL team will be allowed to relocate. Per the NFL, both L.A. stadium proposals must include the option to house 2 NFL teams as well. The Raiders WILL NOT relocate to a stadium where they "might" have to share it, when they can do just as well in their own market in Santa Clara with the S.F. 49ers. The NFL has also mandated that neither AEG (who currently runs the Oracle Arena and O.co Coliseum in Oakland-and who also has an agreement with the JPA that they cannot speak to the Raiders about relocation-not the no-poaching clause that was originally reported), nor Majestic Realty can speak to any NFL team about relocation until at the conclusion of the 2012 season at the earliest.
Both L.A. groups (AEG with the Farmers Field proposal in downtown L.A., and Majestic Realty with Los Angeles Football Stadium in the City of Industry) are requiring a certain percentage of ownership in whatever team decides to relocate to Los Angeles. Makes sense, right? Why would they build a stadium for a prospective team unless they had some kind of stake in the future success of the venture? Remember, the NFL has stated that they are not behind the current business models of either of these groups. They have said that they have seen progress, but not enough for them to back either one completely at this point. It is speculated that they prefer AEG's Farmers Field proposal, but no one has gone on record to verify this. In any account, where this concerns the Raiders franchise, Mark Davis has repeatedly said that the Raiders are not, and will not be up for sale. He will not give up controlling interest (which is a contractually structured 47%) in the franchise, and the silent stake holders, have shown absolutely zero interest in selling their shares. With that being said, things could always change if all of his preferred options go down in flames. Highly doubtful that all of them don't pan out.
Not to mention all of the potential lawsuits that AEG is beginning to face in their quest to win the NFL's approval. See attached article: LegalNewsline | Farmers Field bill challenged in Calif. court
In the end, what is currently true, is that CEO Amy Trask and General Managing Partner Mark Davis are working extremely hard, and negotiating solely with the City of Oakland, County of Alameda, and the JPA to construct a new stadium on the current Coliseum site in Oakland. There are a lot of moving parts in East Bay politics, and when it comes to the Coliseum Complex, things are quite complicated. That's why patience is needed. Silence is deafening sometimes, and the B.S. media reports and constant L.A. garbage can certainly wear on the best of us, but trust me, at this current moment in time, another relocation to L.A. by the Raiders franchise is nothing more than a far-fetched delusion. I am not saying that this could never be an alternative, but it isn't now, and hasn't seriously been (even with the garbage reports of Mark Davis being seen at a basketball game with Ed Roski-both own season tickets for the L.A. clippers, and Mark spends ½ of his time in L.A. and ½ of his time with his mother in Oakland) in the recent past."
What ever the final answer is, as long as the Black Hole is there, the Raiders will be allright.